Space School for the future
In today's ever-advancing world, we are living at the speed of science. The pace of change in society over the next 30 years will outpace the change we have experienced in the last five thousand years.
An expected 50% of current jobs will disappear;
Over 50% of jobs in the next 20 years do not exist today;
75% of the fastest growing occupations require STEAM-related skills.
Students can be at the forefront of this exciting era. These students will have an average of four careers and 17 different jobs in their lifetime. It is so important that they learn and master critical transportable skills to successfully navigate the fast-changing landscape shaped by automation, robotic, artificial intelligence, globalisation and collaboration. Empowered with the critical STEAM related skills set, students will not only become the capable and competitive job seekers, most importantly, they will become the innovative job creators.
The Ultimate Out-of-Class Innovation
Today, students have an opportunity to get ahead, to learn and apply these skills at CASE Space School, an immersive international study program designed to inspire a new generation of STEAM-related skilled leaders.
The CASE Space School International Study Program...
...is designed for students to learn and apply critical skills in highly immersive and inspiring STEAM activities at NASA.

The inspired personal and leadership development programs include Dr Tony Wagner's 'Seven Survival Skills´ to truly empower students for changing times. CASE Space School broadens the mind, cultivates drive and instils curiosity with the spirit of exploration.
With greater program depth, students have incredible access to NASA. They visit areas rarely accessible by the public; and engage directly with NASA experts to design and plan their own space mission within a given budget. An immersive program that hones their individual leadership, project management, resource allocation, crisis management and team work skills.
Suitable for students age 15 years and above.
Application of management principles in innovative and complex environments
Demonstrated STEAM-skills in challenging projects
Development of critical thinking and problem-solving skills
Effective collaborative team, setting and achieving targets
Leadership skills including leading by influence
Initiative and entrepreneurial mindset
Curiosity and imagination
Pursuit of personal values and long-term goals
"Space School was an incredible once in a lifetime experience for students interested in STEM. The activities we completed were challenging but exciting and I have learned so much during my time here. Along the way I have made friends I know I will keep in touch with, and I have been so lucky to meet the teachers, managers, assistants and more involved in the space school program. At space school I have not only learned all about space exploration - past, present, and future - as well as how to cooperate better in a team, work collaboratively, organise myself. I have also learned that there are so many opportunities available to everyone as long as you have goals and strive to do your best."
Polly H., Marist Sisters' College Woolwich, NSW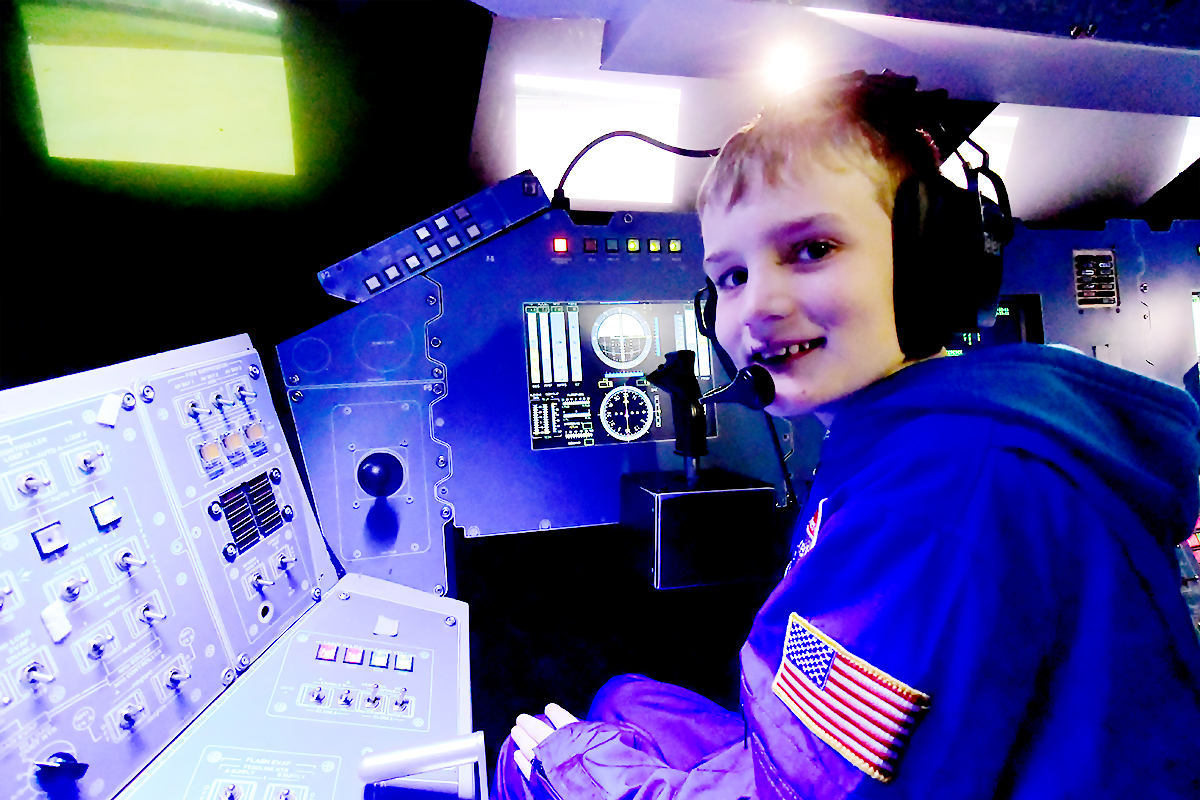 CASE Junior Space School is astronaut training for youth and is an engaging hands-on adventure. During this 14-day expedition to Houston, TX and Huntsville AL, students learn about space travel, the development of space-related technology and are lead through several simulated missions. This program is focused on providing relevance to, and inspiring passion for STEAM through exposure to space and broader 'earth' science exploration.
Suitable for students 12-14 years old.
Development of critical thinking and problem-solving skills
Skills in goal setting and project planning to set and achieve targets
Effectiveness in collaborative teamwork
Application of STEAM in challenging space missions
Greater initiative, responsibility and leadership through influence
Curiosity and imagination
Pursuit of personal values and long-term goals
"Space school has been a fulfilling experience for me and was well worth the cost. There were a lot of unique experiences on this trip that I probably wouldn't get anywhere else. At space school I have learned many things not just academically but also about my friends and how to give good speeches. My experience has been helpful and was very scientific, this is good because I want to do something with science, like an engineer or a rocket scientist. Over the course of space school I have learned how to dissect a shark, the different spacesuits, the path of human space exploration. Overall the trip has been great and I hope to go on something like it again.
Declan S., Hale School
Program Blueprint for Student Success
CASE Space School provides students with the most effective learning program, through the designed framework students will develop critical STEAM related skills set for their future success. The learning outcomes students learn include critical thinking and problem-solving skills; setting goals; self-motivation; leadership and collaboration within team environments. These skill sets developed at CASE Space School will empower students to navigate through today's advancing world.
The ultimate international Study Program
CASE Space School's unique out of class program design incorporates 14-days of problem-based learning, case studies, creative development, astronaut training and management preparation presented in exceptional environments. The program extends to combine team management principles, motivational applications and experiential learning on-site at NASA and unique facilities. This highly engaging and empowering approach compels the Space School renowned all over the world.
Exploring space, science and managerial principles
The CASE Space School is one of the few short-term youth study programs in the world covering science, space, and management to provide students with a most exciting motivational study platform. Students have the exclusive opportunity to talk and work directly with the experts – astronauts, engineers and scientists at NASA and other facilities.
Get to know NASA, talk to the best in the field
Students will gain a deeper knowledge of Space School through mission simulators to Mars and the Moon, engage in unique and insightful discussions with the best engineers, scientists and managers of NASA. They have the opportunity to visit mock up facility for the assembly of the international space station, design the Mars exploration rover, build and launch rockets, visit the Apollo mission control center and much more.
Highly engaging experiential learning
Space School students will be placed in mission control and taking part in simulated space missions. They will learn about goal-setting, project planning, resource management, crisis management and teamwork.
Students develop independent thinking, empowering creativity,
resilience as well as developing team spirit and encouraging them to truly reach for the stars.
Space mission simulators and Problem-Based Learning
A project-program design that focuses on the student, with the incorporation of space mission scenarios, problem-based learning and technically-challenging anomalies, leads to the most efficient and exciting learning experiences within a minimal time frame.
International Academic Credentials
CASE Space School is a UC approved and WASC accredited international study program
CASE Space School Programs are University of California (UC) approved as recognised College Preparatory courses in the USA. UC Approval demonstrates these courses are of high academic standard to prepare students for university-level studies. It ensures that CASE Space School graduates are identified by leading universities as high achieving, university-ready students.
As a world-renowned educational evaluation and accreditation association, WASC, the Western Association of Schools and Colleges affirms a school or education provider is living up to its mission of offering an excellent education to students.
In the competitive landscape of university applications both domestically and internationally, students who complete CASE Space School Programs will differentiate themselves from other applicants.
Ms. Nicole Stott
Former NASA Astronaut, engineer, currently an educator and artist. With two space flight, STS-128 and STS-133, and 104 days living on board the ISS, Nicole is also currently the Special Advisor to CASE.
Mr. Matt Leonard
President and CEO
TSTAR – Texas Space, Technology, Applications & Research Institute
Former NASA Program Manager in Lunar, Space Shuttle, and ISS missions.
Mr. Tom Nolan
Operations Engineer for Earth, Moon, and Mars explorations NASA Jet Propulsion Laboratory.
Mr. Mike McCulley
Former NASA Astronaut. Former President and Chief Executive Officer (CEO) of United Space Alliance.
Dr. David C. Hilmers
Former NASA Astronaut. Medical Doctor and Associate Professor in internal medicine and pediatrics.
Mr. Clayton Anderson
Former NASA Astronaut. Former NASA Flight Design Branch Chief at NASA's JSC.